For a change of pace, I'm offering up historic styles this week - fencing mask styles, to be specific. They've evolved over time, in my opinion for the better!
According to costume historian Jane Malcolm-Davies, masks were invented around 1750 but fencers resisted wearing them because it "indicated a fear of inartistic work by a opponent." By 1800 it appears these masks were in use, but were fairly spare wire things:
A rare fencing ensemble, French, late 18th century - first half 19th century, comprising padded natural linen jacket with chamois breast. Courtesy Kerry Taylor Auctions
Through the 19th century
masks became bulkier and more protective
(scroll down), but still offered indifferent throat protection.
Epee master, France, 1899. Found on Tumblr, further provenance unavailable
Chatham University PA, ca. 1908. Courtesy U. of Pittsburgh Library
Bibs don't seem to show up consistently until the 1930s: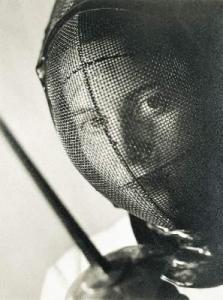 L'escrimeuse, 1933 by Willy Kessels, courtesy Arcadja Auctions results
By the 1940s the mask is taking a more recognizable form:
U.S. Naval Academy ca. 1942, courtesy Library of Congress
Today's masks have a larger (safer!) bib, but for foil the lower half is now electric so it won't cover target. I'm sure many foilists remember having to retrofit our old masks a few years back:
How many old lames gave their lives for the new rules?
Mesh is now available in every color of the rainbow, though not seen terribly often:
And of course there are infinite possibilities for patterns:
How do you style your mask?
Reference:
Malcolm-Davies, Jane. "'And at the Plastron Push': The Historical Development of Fencing Kit."
Costume
36.1 (2002): 100-111.